SAR Sprinkles Magic on Shotgun Line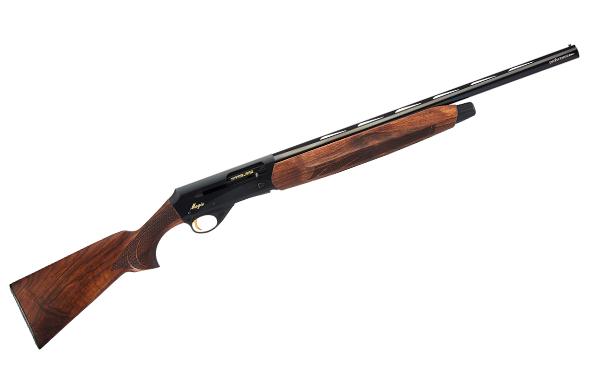 SAR USA by Sarsilmaz, one of the world's largest manufacturers of firearms, has announced the introduction of the new Magic family of semi-automatic shotguns. SAR USA blends Turkish engineering and cutting-edge manufacturing into every product that it produces. The new Magic family of high-quality shotguns is no exception.
"The new Magic semi-auto shotgun is Turkish engineering and performance at its finest," said Todd Pearson, COO of SAR USA. "With state-of-the-art manufacturing, along with 140-years of engineering excellence, the SAR USA Magic shotgun is second to none. The Magic family features contemporary styling and are loaded with features."
The high-performance Magic line vent-ribbed and slug barrels are machined from solid steel, drilled and honed. Both vent ribbed and slug barrels have a blued finish that has an extremely low coefficient of friction. Other features include: dual smooth action bars, cross trigger block safety, machined solid steel locking block and bolt and machined aircraft-grade aluminium receiver. Combine that with a lengthened forcing cone with Truglo sight and you have a slug shotgun optimized for precision shot grouping, or a field gun that is ready for game birds or clay targets.
Available in 26" and 28" vent ribbed chrome molly barrels, the new SAR USA Magic shotgun is loaded with all the great features and benefits you'd expect from a high-performance shotgun. The wood models have laser checkering textured gripping surface and genuine Turkish walnut oiled finished stocks. The SAR USA Magic is also available in a 24" slug configuration with synthetic stock. The Magic comes standard with five Beretta/Benelli thread patterned compatible choke tubes: 7cm internal, improved cylinder, modified, improved modified and full.
Technical Specifications
Calibre: 12-gauge
Chamber: 3"
Capacity: 5
Weight: 104.4 oz. /106.5 oz. /107.5 oz.
Overall Length: 44.8" / 46.8" / 48.8"
Barrel Length: 24" / 26" / 28"
Height: 7.8"
Width: 1.9"
About
SAR USA is the exclusive importer of Sarsilmaz Arms. Founded in 1880 in Istanbul, Turkey, Sarsilmaz produces firearms for 78 nations from its over 1-million square foot, state-of-the-art facilities that have raised the bar for the standard in quality control for firearms manufacturing. The company produces arms for NATO and many militaries worldwide. Now it is offering select firearms to the American market via SAR USA.
F: www.facebook.com/sarusaofficial/